Tag: heart
by yusranadhityakurniawan on May.04, 2010, under Information Lifestyles
Knowing the changes in heart rate is very important to know heart problems early. Not only by using special equipment, checking the heart rate can also be done without using tools.
Heart rate is the number of heartbeats per unit of time, usually expressed in beats per minute (beats per minute or bpm).
Heart rate can vary according to changes in oxygen the body needs, such as during exercise or sleep.
Measurement of heart rate is usually used by medical professionals to assist in the diagnosis and monitoring of medical conditions. But you can also check their own heart rate without having to use specialized medical equipment.
As quoted from eHow, Monday (05/03/2010), here I check my heart rate without using special equipment:
1. Use your fingers to find the pulse
Use two fingers or three fingers, namely the index finger, middle finger and ring finger to find your pulse. But do not use your thumb because your thumb has a pulse itself.
Inspection can be done on the wrist (radial pulse) and in the neck (carotid pulse).
At the wrist, use three finger pads of index, middle and ring fingers. The ideal place is below the wrist crease at the base of the thumb. Press lightly until you find the pulse (the blood pulsing beneath the fingers). If necessary, move the fingers until you find the most taut pulse.
In the neck just use two fingers, index and middle fingers. The ideal spot is about one inch to the side of the center of the throat, right where the neck and jaw meet.
2. Check and record level, strength and rhythm
Use a clock or watch in the hands of another. Calculate and record how many pulses that occurred within 10 seconds.
3. Multiplied by 6
Heart rate is the number of beats per minute. So the number of beats for 10 seconds multiplied by the number 6 (60 seconds each with 1 minute). The result is your heartbeat.
2 Comments
:health, heart
more...
by yusranadhityakurniawan on May.02, 2010, under Information Technology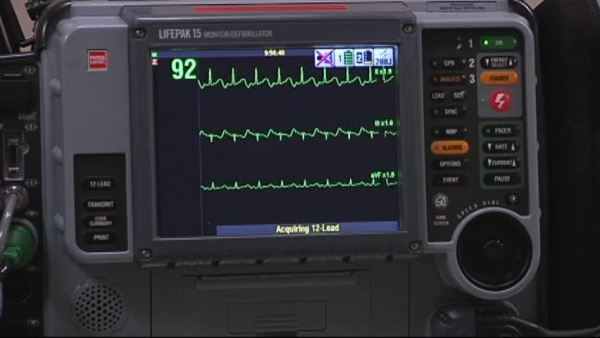 It takes an average of 90 minutes to get a heart attack patient into surgery, but a new device being used here in North Texas, called LIFENET, promises to cut that number by nearly a third.
"As a patient is having a heart attack, they're losing heart muscle. Their muscle is dying," said cardiologist Eric Eichhorn of Medical City Dallas.
Medical City is the first hospital in North Texas to get the technology, but in order for it to work, the paramedics in the field must have one too. So the hospital donated one unit to every ambulance in the Dallas Fire-Rescue fleet.
2 Comments
:heart, Technology
more...